OUR NEW PRODUCT !
varnish in a vial - 10 grams
solvent in a vial - 10 ml
Use:
preventive agent against caries,
reduction of teeth hyperesthesia,
treatment of non-carious lesions of teeth,
teeth preparation before placing prosthesis,
teeth treatment after whitening procedures, dental plaque removal and professional oral hygiene.
Analogue: «Bifluoride 12» Voco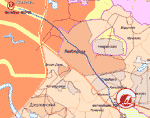 Contacts of StomaDent

Tel./fax: (495) 514-93-46
Tel./fax: (495) 514-93-47, (495) 514-93-48
Tel./fax: (495) 514-93-13 Commercial department

E-mail:
Secretary - info@stomadent.ru
Commercial department - commerce@stomadent.ru

Address: 11 Garshina Street, Tomilino, Moscow region, 140070, Russia
OUR NEW PRODUCT !
Has high strength, low acid erosion, radiopacity
Use:
restoration of teeth cavities classes III, V for adults and children;
restoration of cavities classes I, II of primary teeth;
restoration of non-carious tooth tissue defects;
sealing root dentin caries;
placing radiopaque gasket while working with composite filling materials;
restoration, with the use of sandwich technique, in the cavities of I and II classes.
Available in the following dosage:
«CemFil 15» (15 g powder + 6.4 ml liquid),
«CemFil 10» (10 g powder + 4.5 ml liquid),
various Vita shades
Analogue:
FUJI VIII and FUJI IX (GC)