OUR NEW PRODUCT !
Use:
High-aesthetic teeth restorations of I-VI class;
Thixotropic material - easily modeled and easily polished to "dry light";
High transparency allows "chameleon effect";
Has high strength, low polymerization shrinkage;
Contains antibacterial nano-particles.
Analogue:
«Filtek Ultimate» 3M Espe,
«Filtek Z550» 3M Espe,
«Tetric N-Ceram» Ivoclar Vivadent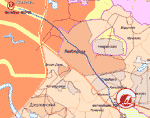 Contacts of StomaDent

Tel./fax: (495) 514-93-46
Tel./fax: (495) 514-93-47, (495) 514-93-48
Tel./fax: (495) 514-93-13 Commercial department

E-mail:
Secretary - info@stomadent.ru
Commercial department - commerce@stomadent.ru

Address: 11 Garshina Street, Tomilino, Moscow region, 140070, Russia
OUR NEW PRODUCT !
Dual-chamber syringe contains: catalyst paste - 3 g, universal paste - 3 g;
Is used for the constant cementation of prostheses made of ceramics, composites and metal (crowns, bridges, veneers, inlays), as well as for fixation of pins in the root channel;
has a unique innovative composition which provides antibacterial effect, high adhesion and aesthetic result.
Analogues:
«SpeedCEM» Ivoclar Vivadent,
«PermaCEM» DMG