OUR NEW PRODUCT !
varnish in a vial - 10 grams
solvent in a vial - 10 ml
Use:
preventive agent against caries,
reduction of teeth hyperesthesia,
treatment of non-carious lesions of teeth,
teeth preparation before placing prosthesis,
teeth treatment after whitening procedures, dental plaque removal and professional oral hygiene.
Analogue: «Bifluoride 12» Voco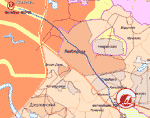 Contacts of StomaDent

Tel./fax: (495) 514-93-46
Tel./fax: (495) 514-93-47, (495) 514-93-48
Tel./fax: (495) 514-93-13 Commercial department

E-mail:
Secretary - info@stomadent.ru
Commercial department - commerce@stomadent.ru

Address: 11 Garshina Street, Tomilino, Moscow region, 140070, Russia
OUR NEW PRODUCT !
1 syringe with "IonoLight", B2 color - 2 g
«IonoLight» is intended for:
making radiopaque gaskets,
aligning cavity bottom,
fissure sealing,
sealing small defects of class V.
After solidification, the gasket made of «IonoLight» material releases fluoride for a long period of time.
Analogue: «Ionoseal» Voco